The World Village Festival is Finland's leading event for global action for the whole family, an admission-free cultural festival, a food carnival and a trade fair for sustainable development. The World Village showcases global challenges and solutions, increases people's understanding and provides concrete ways to take action to create change. The World Village brings people together, because only together we can change the world.
First organised in 1995, the World Village Festival gathers around 60,000–80,000 people every year. The next festival will take place in Suvilahti, Helsinki, on 27–28 May 2023.
Please note that we will publish more accurate information about the exhibitor stands, advertising space and other opportunities for partners for the 2023 festival during the autumn of 2022.
Don't miss the exhibitor sign up. Subscribe to the festival's newsletter and get news about the production and festival programme. You will receive the newsletter about 10 times per year and the English translation will be below the Finnish text.
Why partner with the festival?
The festival is an excellent place to gain new members, attract volunteers or bolster their self-financing.
Authorities and other organisations can use the festival to get in touch with citizens as well as target groups that are harder to reach otherwise.
For companies, the festival provides an opportunity talk about their corporate responsibility efforts and to strengthen their image as a societal actor.
Media partners can reach tens of thousands of active citizens at the event and the communication around it.
Through festival communications you will be part of action throughout the spring.
Advertising space
The World Village Festival magazine will be published in between Helsingin Sanomat newspaper 21st May 2022 with a distribution amount of 100 000. Additionally, 3 000 magazines will be distributed at the festival site. The festival magazine has 16–24 pages in tabloid size (280x400mm). A 40% discount on the advertising space rates apply, if booked together with exhibitor stand application. More information in the media kit (pdf in Finnish).
You can also reserve advertising space on the festival screens as part of your stand reservation – when reservations are made together, you will get a 40% discount on your advertising space. The screens are located on visible spots on the festival site during the festival weekend. The content will be displayed without sound. The prices are valid for ready-made materials. More information in the media kit (pdf in Finnish).
Large stands
There are several different possibilities for large exhibition stands within the festival area. Large exhibition stands include floored tents that have been pre-built or assigned places for a large tent of your own. The tent areas are 6×6, 6×9 or 6×12 meters in size. A large stand allows you to reach wider audiences, makes it easier to organise activities, and is more visible in the festival communications.
Exhibitors with larger stands get their name on the festival map and access to Magito networking space. Having a large stand also includes getting a logo as well as the expo stand programme displayed on the festival website.
Large tent stands can also be reserved together with other organisations or with resale rights, so that for example member organisations or other actors can exhibit together on the same expo stand.
Profiled areas
Brand an area with your own brand and increase the overall audience experience. Profiled areas include for example sitting areas, programme areas, or other areas on the festival site. The profiled area can include produced programme or only brand visibility. Possible branding areas are, for example, Kid's Corner, Street Art Area, the Garden Area on the Konttori back yard or the bike parking area. Having a profiled area gives organisations right to do promotion or face to face campaigning similarly to those with an own expo stand. Otherwise face to face marketing is prohibited at the festival, except for main partners. The pricing for the branding area varies between 3000 and 7000 euros depending on the exact area, visibility, and execution.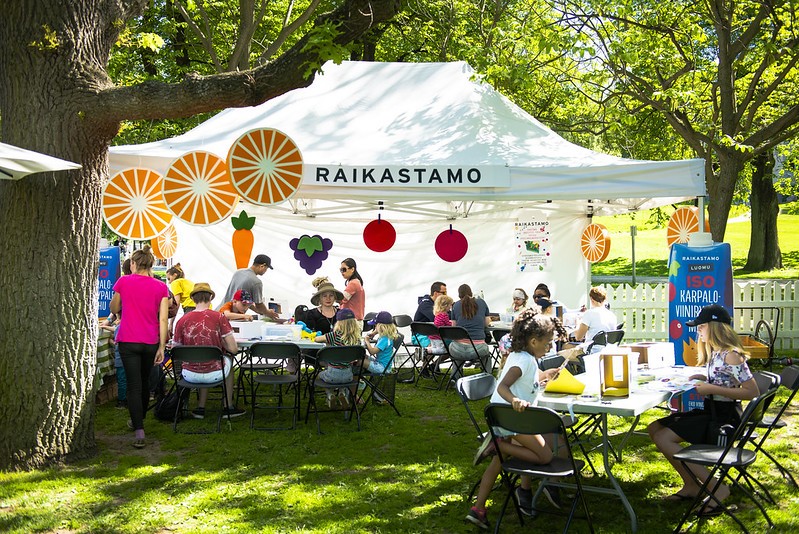 Main partners
Each year the festival collaborates on a main partnership level with 4–6 organisations. The collaboration is rich, diverse and tailored for achieving best results for all parties. The main partners also receive broad visibility in the festival communications, opportunities to do programme collaboration as part of the festival program, and many other exclusive benefits. Please reach out to us for more information.
Theme stands
Theme tents offer organisations an excellent opportunity to reach people together with other stakeholders who work with the same kind of issues. There are 3x3m or 3x6m stands available. Larger spaces are also possible and will be agreed upon separately. Theme tents are given visibility in the festival communications.
Open Finland
Open Finland is meant for organisations which aim to reach new Finns or newly arrived people in Finland, who want more information about the country and its services and opportunities. The tent will present services offered by authorities, media, NGOs, companies, and educational institutions. The tent also includes a networking lounge.
Climate Village
In the Climate Village, organisations can demonstrate their climate work to a large audience and share information about climate justice.
Clean World
The Clean World theme tent is for companies that offer everyday solutions and innovations for a cleaner world.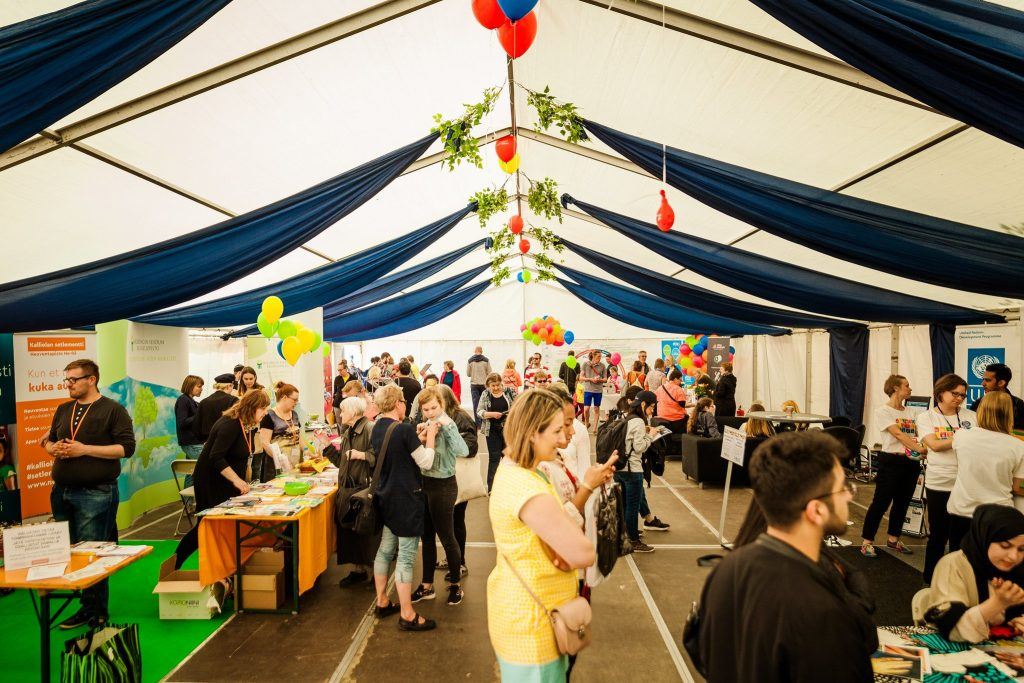 Standard stand
Small stands include a table stand at the Market of Possibilities (2 x 2 m and 2 x 4 m) or a small area for your own tent (3 x 3 m or 4 x 4 m). Due to high demand, we unfortunately cannot offer all applicants a small stand. Fingo's member organisation applications will be automatically approved, other applications will be reviewed on a case-by-case basis. Approved applicants will receive a stand confirmation by 31.3.2022. Only one exhibiting organisation per small stand allowed.
Market of Possibilities
The available staThe Market of Possibilities is located indoors in Kattilahalli. The table stands available are in sizes 2 x 2 m (4 m²) and 2 x 4 m (8 m²). Only one exhibitor per standard stand.
Tent stands
The festival offers small tent spots that can accommodate 3 × 3 m (9 m²) and 4 × 4 m (16 m²) sized tents. Exhibitors must bring their own tent.
Commercial stands
Food stands
We offer food stand spots for NGOs and commercial food vendors sized 4 × 4 meters (16 m²). Food truck entrepreneurs can also apply for a spot for their food truck at the festival. Only one vendor per stand is allowed, and the vendor must have an own tent. More specific instructions on how to apply can be found on our website.
Read more about being a food vendor at the festival.
Bazaar stands
Bazaar stands are intended for commercial crafts vendors. All sales must occur within the vendor's tent. Only one vendor per bazaar stand. Electricity may be ordered as part of the registration, furniture not available.
Map
This is a tentative map of World Village festival site, for the use of exhibitors and partners. The festival reserves rights for all changes.