Volunteers are a crucial part of World Village Festival – without their efforts, there would be no festival. We offer a variety of roles for those interested in helping out before, during or after the festival.
As a festival volunteer, you will get a peek behind the scenes, gain practical experience in event production and spend great days doing practical stuff with a fun bunch of people. You will also be able to build networks with like-minded people and help to create a positive festival atmosphere.
You can sign up as a volunteer at the last minute, mainly for cleaning and recycling tasks. If you are interested in becoming a volunteer, send your name, e-mail address and phone number to the address vapaaehtoiset@maailmakylassa.fi and at the same time tell us which days and times you would be available. We will do our best to place you in a volunteer task even at the last minute.
Volunteer benefits
At World Village Festival, we want to take good care of our volunteers.
The festival provides volunteers with a meal on every working day of at least seven hours. During the festival, volunteers have access to a break room to rest, eat lunch and catch up with other volunteers. All volunteers also get a festival T-shirt and, if they need one, a certificate for their volunteer work.
In June, volunteers get to celebrate a job well done at the festival closing party.
Volunteers are needed for a variety of roles before, during and after the festival. You may take your pick from available roles or just sign up and be assigned to a role chosen by us. We hope you could work at least during two days. By participating in two volunteer shifts, you will get an authentic experience of event production and festival construction. If there are many applicants, we will give priority to those who can take a shift on two or more days.
In all roles, the volunteer will have a supervisor who takes care of orientation and work shifts. Please note that volunteers must be at least 18 years of age. The language requirement is either English or Finnish. World Village Festival is a discrimination-free space and is committed to promoting the principles of equality, justice and non-discrimination. Everyone is welcome to the festival, and we do not accept any kind of discrimination or harassment. Since volunteers are an important part of the festival, we require that volunteers also commit to these values.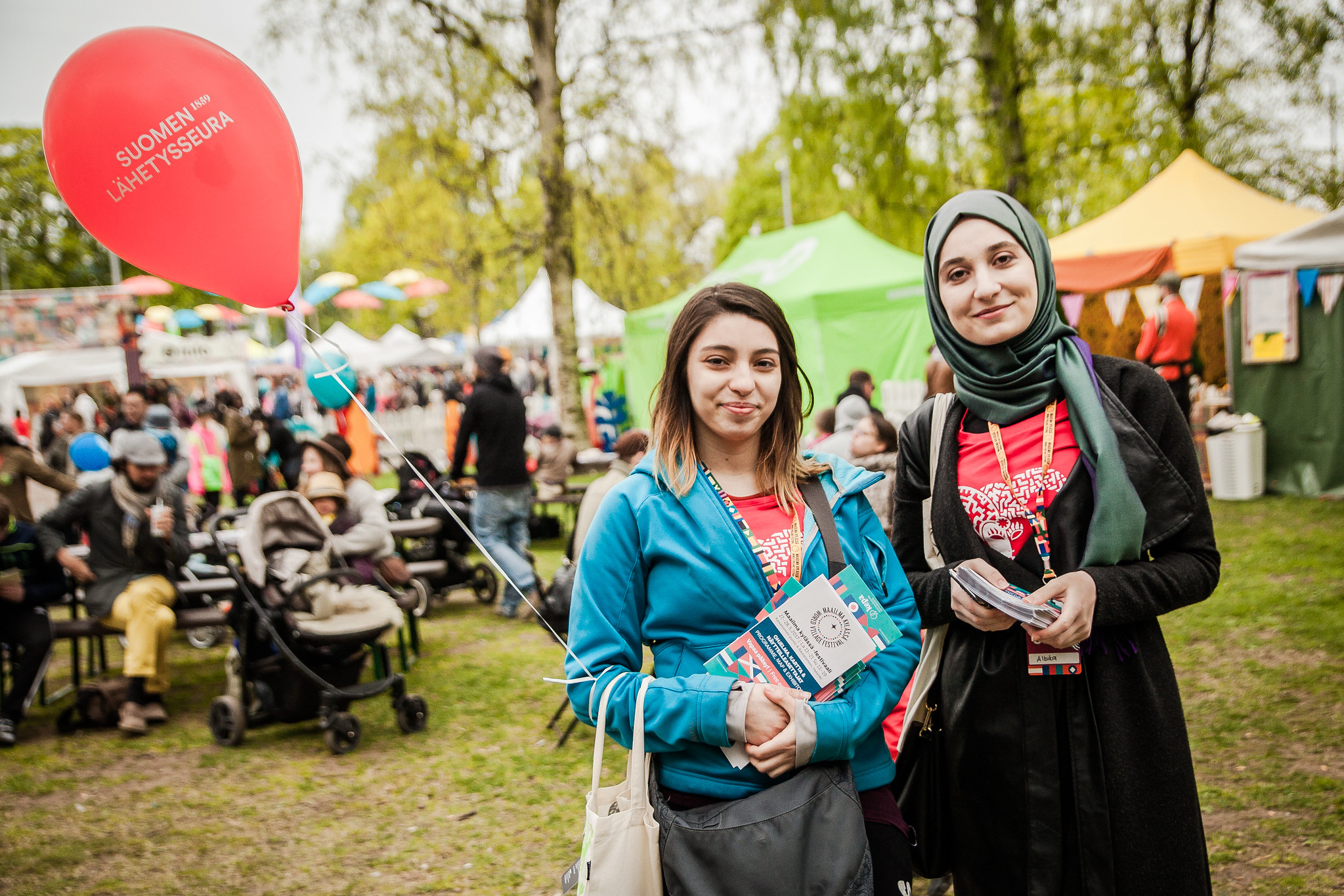 Volunteer roles
Most of the roles involve work during the festival. For some roles we need volunteers for dates already before the festival and few volunteers are also needed for take down work after the festival. You can specify the dates on which you would like work as a volunteer on the registration form.
Volunteer roles available include:
Catering
Catering team members will work in the artist and staff café. The artist café is open during the festival weekend and the staff café also operates before and after the festival days.
Programme production
During the festival weekend, programme production volunteers will provide assistance and guidance in the programme areas (Kids' Corner, Street Art Area and programme stages).
Distribution team
The distribution team will distribute the festival magazine and info material mainly during the festival and few days before. Please note that for this you will need a certain level of physical fitness as you will be delivering the festival info material to nearby buildings and magazines to nearby cafés. During the festival, this team takes care of the magazine distribution racks and the distribution of magazines on the festival site.
Info point and customer service
In these roles you will be providing festival visitors and exhibitors with advice and guidance. The info point staff will also  help to reunite lost items with their owner and lost children with their parent/guardian. The info point needs cheerful and customer service-minded volunteers who can speak both Finnish and English fluently. Volunteers will be needed from Friday to Sunday.
Cleaning team
As a member of the cleaning team, you get to make sure the festival site stays pleasant, clean and tidy and that way provide the festivalgoers with a comfortable environment. The cleaning of toilets and other more demanding cleaning tasks will be assigned to professionals. Volunteers will be needed from Friday to Sunday.
Green team
World Village Festival is committed to recycling all waste generated at the event. During the festival days, assisting and advising the public at the recycling points is an important part of the festival's practical environmental work. If you are able to advise in which container to put bio-waste, cardboard and plastic, this role is for you.
Signage and banner team
The team will take care of installing and removing signs and banners at the festival site. For these tasks you will need to be physically fit. Volunteers for these roles will mainly be needed from Wednesday to Friday before the festival and from Sunday to Monday after the festival.
Decoration team
The decoration team will take care of visualisation and making the festival site a pleasant place to be. Tasks vary from small tasks to decorating large sections of the festival site. Volunteers for these roles will mainly be needed from Wednesday to Friday before the festival and from Sunday to Monday after the festival.
General festival setup and takedown work
These roles will involve setting up the festival's tents, fences and other structures, laying out the furniture and preparing the event. This work will be physical, but fun. Festival takedown will be an efficient and active process to take down and pack up the festival. Volunteers for these roles will mainly be needed from Wednesday to Friday before the festival and from Sunday to Monday after the festival.