The World Village Festival for sustainable development will focus on environmental and climate issues as well as refugees and peace this spring. In addition to featuring music, talks and discussions, kids' programme and art, the festival is also a trade fair for civil society organisations (CSOs) and sustainable development where hundreds of organisations showcase their activities for a better world and sell ethically produced goods and food from around the world.
From this page you will find important information recarding your exhibitor stand and about changes relating to the Suvilahti festival site. We will also provide you with more guidelines concerning you participation at the exhibitor info event at the latest. The info event will be organised at 17.00 on 11 May as a remote event to which we will send you an invitation and a link at a later date. The event will cover practical issues relating to participating at the festival.
We recommend that all those working at your exhibitor stand will study these guidelines before the festival.


From this page you can find information and instructions for the exhibitors. This site includes information about:
– the festival site map and the location of your exhibitor space;
– instructions for vehicle access to the site and the opening hours of your exhibitor stand;
– information about nigh-time security guarding and exhibitor pass pickup;
– information about internet access on the site, social media visibility and food vouchers;
– information about the Magito networking space.

Location of your exhibitor space & festival site map
You will find the festival site map here. We will also publish a list of all the participating exhibitors here: https://maailmakylassa.fi/en/stands-and-food/ Please check that you can find your own exhibitor space marked on the map.
We will publish the festival site map and the list of participating exhibitors in the World Village Festival magazine on 20 May 2023. The festival magazine will be published as an insert in the Helsingin Sanomat newspaper and will also be distributed at the festival event sites.
Vehicle and other access to the festival site
The event's security organisation and traffic guides will organise vehicle access to the site. We hope that everyone will allow them to work in peace, everyone driving to the site will be patient and everyone will be respectful to others. There will be periods with high congestion levels.
Please note that vehicle access to the site for deliveries and pickups will only be permitted during the following periods:
• on Friday from 18.00 to 22.00
• on Saturday from 8.00 to 10.15 and 21.15 to 22.00
• on Sunday from 8.00 to 10.15 and 19.15 to 21.00

One of the biggest accident risks at the event is driving a vehicle among the festivalgoers. This is why on Saturday and Sunday vehicle access to the site will not be permitted until a minimum of 15 minutes after the end of the event. Vehicle access to the festival site is only permitted with the festival's official vehicle access pass and only during the above maintenance access periods.

Parking on the festival site is strictly forbidden – it is only permitted to quickly load and unload a vehicle. Please note that in areas such as in front of the Kattilahalli hall it is not permitted to stop any vehicles even temporarily. The festival is unable to offer any exhibitor parking spaces and will not cover any exhibitor parking fees.

We recommend that you use public transport, shared vehicles and taxis for your goods transport needs. Never leave your vehicle in another exhibitor's space when loading or unloading it.
Exhibitor conduct & exhibitor stand opening hours

Exhibitors must keep their stand open during the festival opening hours:
on Saturday from 11.00 to 21.00 and on Sunday from 11.00 to 19.00;

the Kattilahalli Market of Possibilities on Saturday from 11.00 to 21.00
and on Sunday from 11.00 to 19.00.

The opening hours must be adhered to, as any setup and takedown of exhibitor stands will disturb festivalgoers and the adjacent stands. Exhibitors may not assign their space to a third party and may not allow a third party to use their space (unless otherwise agreed in writing).
Food may not be sold at spaces other than designated food vendor spaces. You may, however, serve coffee, tea and individually packaged foodstuffs such as biscuits and sweets also at exhibitor spaces other than food vendor spaces. We are a sustainable development festival, so please note that all coffee cups and other serving dishes must be biodegradable.

Exhibitors must provide the customer with a receipt of every sold item if necessary. If you cannot print out receipts directly from your point-of-sale or payment terminal, receipt books for handwritten receipts are available from most stationery shops and bookshops.
There will be more than 200 exhibitors on the site, so any fundraising, materials distribution and all other activity must take place only within the boundaries of your own exhibitor space (unless otherwise agreed in writing). Any programme or presentation of your activities taking place at your own space must not disturb the neighbours. This means no sound systems or performing groups, please.
A stand at the Kattilahalli Market of Possibilities includes a small table and a chair (contrary to information provided earlier, the length of the table is 180 cm).
Pop-up tents & safety
No tent is included in the space rent for tent and food vendor spaces. We require that every exhibitor uses a sufficient amount of weights to ensure their tent is safely secured in all conditions. Each exhibitor will be responsible for any damage caused by any insufficient securing of their tent.
We as the event organiser take public safety very seriously. Here you can find the operating guideline issued by the rescue services and the Finnish Safety and Chemicals Agency (Tukes) on using lightweight and pop-up tents at events. We as the event organiser require that all exhibitors / food vendors comply with the contents of the guideline.
Please also note that it is not permitted to use tent pegs to secure a tent on the festival site. Instead, you must use weights to safely secure your tent. Please study the attached guidance very carefully. Suvilahti may be a windy site and there will be thousands of people attending the festival at any given time. Thank you for caring for the safety of everyone.
Also remember that our partner Pågå offers exhibitors/food vendors a festival discount on tents and furniture. For the special offer on our website, see this link.
Night-time security guarding & furniture and equipment
There will be professional night-time guarding on the festival site from Friday to Sunday. Fingo's insurance policy will not, however, cover any exhibitor or vendor property left on the site against theft or malicious damage. You should therefore take any valuable items to a safe place or take out insurance to cover it.

Please note: Unlike in previous years, there will be no containers intended for overnight storage on the site. You may store a small amount of items in the Kattilahalli hall at your own risk. The organiser will not be liable for any damage to or loss of items stored.

Kattilahalli will be locked overnight, which means the Market of Possibilities table stands will not need to be emptied between the festival days.

Please note: Unlike in previous years, there will not be any separate furniture point on the festival site. Each exhibitor will be reserved the number of tables and chairs they ordered in conjunction with their space reservation. It will not be possible to hire any more tables or chairs on site.
We will cooperate with Neste K Helsinki Sörnäinen so that food vendors using gas will be able to replace their empty gas bottles. For more information about storing gas, please see our information for food vendors (site coming soon)
For tents, weights and furniture, see e.g.:
Roudaamo
Kataja
Cosa Nostra Crew
Terms and Conditions to exhibitors
An invoice for your participation will be sent to you during March/April, to the invoicing address given in the registration. The participation at the festival is confirmed only after the invoice has been paid by the due date.
You have read and agreed to the terms and conditions for exhibitors / food vendors in the registration. However, please carefully revise the terms and conditions https://www.maailmakylassa.fi/wp-content/uploads/sites/3/2020/01/MK2020-Terms-and-Conditions-for-Exhibitors-1.pdf. You have the right to cancel your participation free of charge within seven (7) days of this confirmation (not including reserved big tent spaces) Cancellation of participation must always be made in a written form according to the cancellation terms determined in the terms and conditions. The non-payment of the invoice will not be accepted as a sufficient cancellation notice
Vehicle access passes & exhibitor passes
Vehicle access passes required for access to the festival site during the maintenance periods as well as exhibitor passes (2 passes per organisation) reserved for exhibitors as well as any food vouchers ordered in advance can be picked up from the festival office lobby at Lintulahdenkuja 10, 00500 Helsinki, on Monday 15 May between 12.00 and 16.00 or on Tuesday 16 May between 12.00 and 16.00. Passes can also be picked up from the Suvilahti festival site info point on Friday 26 May between 18.00 and 22.00.

The exhibitor pass must be displayed on request, so remember to bring your passes to the festival site. It is enough that one member of a group carries the pass.
Forbidden items & substances
To ensure overall safety and security at World Village Festival, please note that it is strictly forbidden to disseminate, sell or display alcohol, drugs, tobacco, drug paraphernalia or any other illegal or illegally produced substances or items on the festival site. Under the festival's ecological principles, it is also forbidden to disseminate, sell or organise prize draws for plastic "tat" or similar unecological items.
Online access on the site
There will be no internet access provided separately by the festival on the site. Open networks such as the City of Helsinki and Kattilahalli open access will, however, be available on the site. The festival will not be liable for the functioning of the connections.

Social media visibility
We have created online banners that exhibitors can use to communicate about their participation in the festival. Banners can be posted on websites and social media and also used in printed publications. You may also make use of the World Village Festival logo in your own communication relating to the festival. Banners and logos can be downloaded here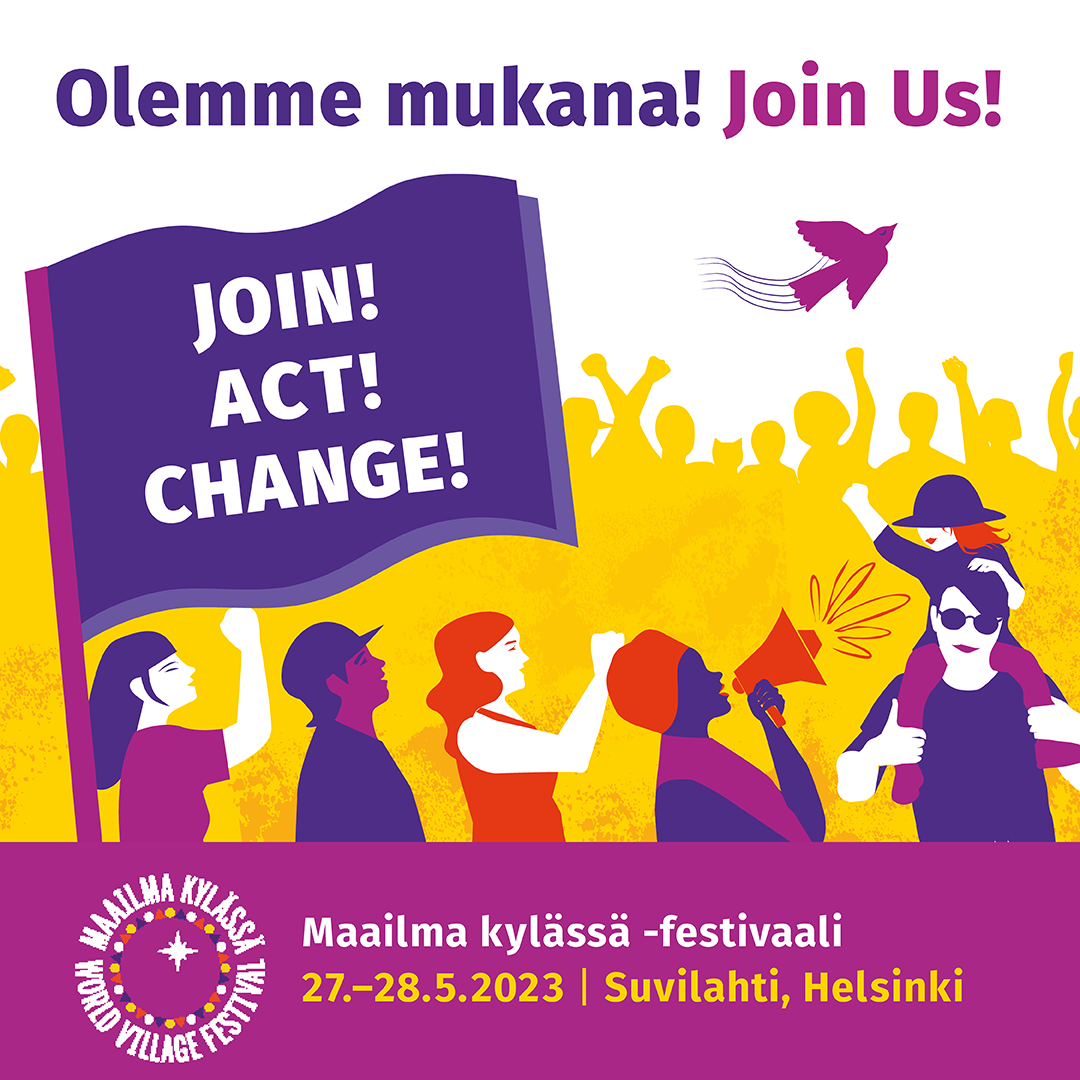 Discrimination-free festival
World Village Festival is a discrimination-free space and is committed to promoting the principles of equality, justice and non-discrimination. Everyone is welcome to the festival, and we do not accept any kind of discrimination or harassment. Since exhibitors / food vendors are an important part of the festival, we require that all exhibitors and food vendors also commit to these values. Please read more information on our website https://maailmakylassa.fi/en/discrimination-free-festival/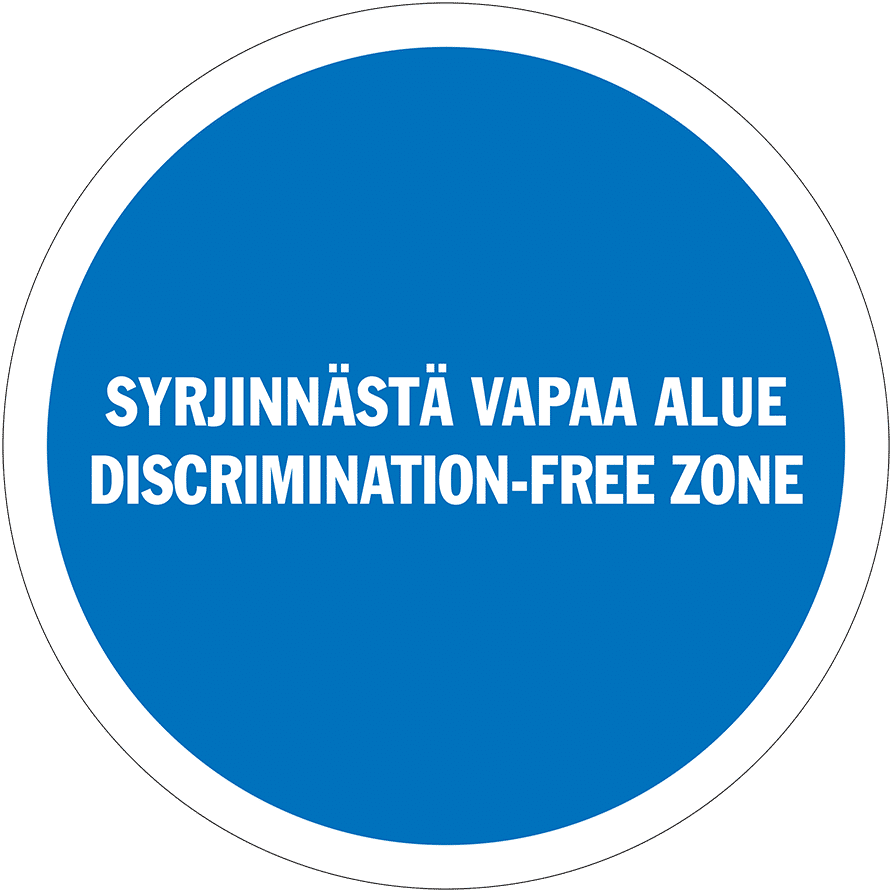 More information about festival site accessibility on our website https://maailmakylassa.fi/en/accessibility/
About food vouchers
We offer World Village Festival exhibitors and other partners the opportunity order food vouchers in advance for the festival weekend. You can give the vouchers to your employees, volunteers or partners, for example. The food vouchers can be used at around 30 food vendor stands on the festival site. A voucher costs €9 and vouchers are sold in sets of 10. A €10 handling fee will be added to each order. Vouchers can be ordered until 12 May 2023 using this form (in Finnish only).
Magito networking space
The Magito networking space is a new meeting place in the middle of the festival. Magito is an excellent location for meetups, coffee breaks and relaxation during the hustle and bustle of the festival. Access to Magito will be provided for the festival's main, content and programme partners, those with a large exhibitor space, representatives of Fingo Member Organisations, festival performers and invited guests.
Thank you for joining in to change the word and create a collective force for change!