Vegan plant-based food is favoured by the festival. Every food vendor at the festival must commit to offering at least one vegan dish.
World Village Festival is committed to recycling all waste relating to the event. Food and drink serving dishes and cutlery used at the festival must be biodegradable. Please take this guidance into account.
Notifications
Every food vendor (both CSOs and professional food vendors) taking part in the festival must submit a notification of the sales, serving and preparation of food. Subject to restrictions on what can be served: https://www.ruokavirasto.fi/en/foodstuffs/instructions-for-consumers/-operating-in-the-food-sector-as-a-private-person/pop-up-restaurant-activities/
Submitting notifications of selling and serving food
Those selling or serving food (including distributing or providing give-aways of food) must notify the City of Helsinki Environment Services of their activity no later than 4 business days before the event. To do this, use the e-service or the form. For notification instructions and forms, visit the City of Helsinki website at www.hel.fi (brief instructions in English at https://www.hel.fi/helsinki/en/housing/foodstuff/outdoor and forms and more detailed instructions in Finnish at https://www.hel.fi/helsinki/fi/asuminen-ja-ymparisto/elintarvikevalvonta-ja-ymparistoterveys/ulkomyynti/. No notification is required for low-risk activity such as serving coffee or tea or other small-scale distribution of individually wrapped sweets, biscuits or snacks.
It is, however, recommended that you submit the notification as soon as you know which products you will be selling, serving or preparing. Remember to mention all of your products and for any more exotic products also the ingredients, if necessary!
Pre-preparation and preparation of food ​
Food can be pre-prepared or prepared in advance at a restaurant or home, for example.
Make sure to take special care with regard to the preparation conditions of meat, chicken, fish, seafood and offal and remember that these ingredients must not be brought to the festival site in raw state.​
The above-mentioned ingredients may only be used for food preparation on the festival site if pre-prepared or pre-cooked.​
Baking, cleaning or peeling vegetables, chopping or slicing food or handling meat is not permitted at your food vendor space.
You may prepare pastries, biscuits, dry cakes and other products that do not require cold storage in advance for the event.​
Important things to remember: If you prepare the food before the event, you must chill it already at the place of preparation. The food must be chilled very rapidly using, for example, iced water. Hot food may only be transported if using hot food storage containers.
You must have enough utensils such as tongs and spatulas at your food vendor space so that you will not need to touch any food by hand.​
You must also have enough cold and hot storage items (such as cooler boxes and ice packs) as well as thermometers.​
Any pre-prepared products must be transported and stored at temperatures complying with the regulations and packed appropriately (in leak-proof containers with lids, not directly in hot food containers/coolers).
Food storage​
Pre-packaged items must be labelled at least with the name, ingredients and preparation date of the food product.​
There must be a sufficient amount of lidded storage containers at the food vendor space.​
All food and its packaging and transport containers must be stored off the ground (on shelves, pallets or similar structures).
No products or product packaging must be placed on the ground!​
It is a good idea to set up your food storage area so that everything you need will be easily accessible in different containers.
Special attention must be paid to the temperatures at which you serve and store food!​
Perishable food and food that requires cold storage must be sold and stored at +0–6 °C at all times.​
Products that require refrigeration must be provided with a sufficiently cold storage place, such as a cooler box cooled with ice packs or with frozen plastic water bottles.​
The temperature of any food served hot must be at least +60 °C. It is recommended that you use catering food warmers.​
The correct temperatures must also be maintained during the transport of food.​
Perishable food may only be presented for sale for a maximum of 4 hours, after which it must be discarded.
Protection against droplets​
You must prevent customers from getting too close to the actual food preparation area by using protection against droplets. ​
For example, a wok must be entirely under a shelter, there must be a sneeze guard or some other similar protective barrier in front of the pan and the pan must be separated far enough (a minimum of 50 cm) on the table from customers.​
Pastries, sandwiches, pasties and other similar products must be protected with a display cabinet or cake domes. Placing clingfilm or aluminium foil on products will not be enough unless the products are individually wrapped.
€100 cleaning deposit
PLEASE NOTE:
A deposit of €100 will be collected from food vendors during Saturday morning (28 May).
The deposit must be paid in cash. The deposit will be returned to you on Sunday after the festival when the stands are being taken down if:
you have left your food vendor space tidy and taken all waste to its designated collection points by 21.15 on Sunday 29 May;
your vehicle has not caused any damage to the lawn, planted areas or other environment;
Fingo has not needed to discontinue your sales due to a breach of agreement. See Terms and Conditions of Participation for Exhibitors and Other Participants here: https://maailmakylassa.fi/wp-content/uploads/sites/4/2022/11/MK2023-Terms-and-Conditions-for-Participants.pdf
Water and wash points​
Food vendors must bring their own hand wash points and take care of filling them, heating the water and taking wastewater away.
There will be three water/wash points on the site for picking up clean water and for rinsing and washing up dishes.​
You must take very good care to remove all food scraps from dishes before washing up so that the drains will not get blocked.​
Let's make a joint effort to keep the water/wash points tidy – this will keep the site pleasant for everyone.​
PLEASE NOTE: The food vendor water access points will be separate from the public water access points. The public water access points are not intended for food vendors to use as wash points.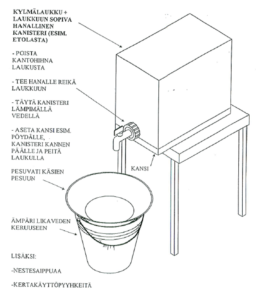 Hand hygiene​
Food vendors must bring their own hand wash points and take care of filling them, heating the water and taking wastewater away.​
The hand wash point must be placed in the food vendor space or its immediate vicinity behind the stand so that there is unobstructed access to the hand wash point from inside the tent.​
It is easy to set up a hand wash point using a water container with a tap, a cooler box and a bucket/pail used to collect wastewater.​
The water used at the point must be warm throughout the event.​
Hand wash points must be in use already before the event begins.
Food inspections​
A food inspector from the City of Helsinki Environment Services will inspect all food vendor spaces of the festival to ensure the correct hygiene levels in food preparation, transport and storage and the correct temperatures of food items.​
If any serious non-compliance is detected in the inspection, the inspector has the right to close the food vendor operation with immediate effect.​
Vendors who receive a serious reprimand will also lose their right to take part in next year's festival.​
For more information on the authorities' rules and regulations, contact the Food Safety Unit of the City of Helsinki: ​ulkomyynti@hel.fi
Electricity
The power extension with the socket designated for your space will be located no further than 5 m from your food vendor space. The power socket will be labelled with the number of your space.
You will need to bring enough power cords intended for outdoor use for your space.
Extension cords intended for outdoor use are always black in colour.
You must also bring your own multiple socket outlet (Schuko) for electricity.

Multiple socket outlets are available from well-stocked department, home improvement and hardware stores.
Waste management and recycling
The waste containers of your serving area must be emptied regularly, and the waste must be disposed of correctly.
You will find the waste compactors in the maintenance area next to the Kattilahalli hall.
Food vendors must take their own waste to the correct waste containers.
The recycling points intended for the public must not be used for sorting food vendor waste.
Wastewater must not be poured on the ground. A wastewater drain/grey water container where food vendors must empty the wastewater generated at their space will be available in the food vendor maintenance area.
There will also be a collection point in the food vendor maintenance area for waste cooking oil generated in food preparation.
Toilets
After using the toilet, hands must be washed at the hand wash point located in conjunction with the toilet – not back at your food vendor space!
There will be a toilet intended for food vendors in the food vendor maintenance area.
Gas bottles
The maximum size of a liquefied petroleum gas (LPG) bottle permitted at the event is 6 kg.​
There may be a maximum of 25 kg of LPG at a food vendor space.​
LPG bottles must be connected to the equipment consuming gas.​
It is not permitted to store gas bottles at the food vendor space.​
Those using LPG-fuelled equipment must be prepared for first-aid extinguishing and have a portable fire extinguisher and fire blanket at their space.​
Fire safety and first aid
Each food vendor must have their own fire blanket (costs around €20–€30).​
There must be a long enough distance between electrical appliances and fabrics.​
Tents and tablecloths must be low flammable or fire retardant.​
There will be first aiders on call at the event, but food vendors must also have their own first aid kit.
Selling food for festival volunteers
The value of the food voucher is €9 (nine euros). Those selling food for festival volunteers must not charge any extra for the voucher. The food voucher must entitle to a proper dish of food, including a vegan option.
Each food vendor must send their invoice and the food vouchers received to Fingo by 31 August 2023.
PLEASE NOTE: We will only pay you for food vouchers returned to us.
We have accepted the following food vendors as vendors selling food for festival volunteers:
Etiopian maku maailmaa
Sababa Falafel ja Kunafa
Nusantara cafe
Evin ravintola
Tacos los Burros
Premium Asian Food
Suomi-Nicaragua-seura ry.
justvege raventola
Casamoro
Kameroonian Food by ASSOGRAF
Costa Rica Pura Vida
Bites Burgers
Nigeria food by Umuaka dancing club
Chef Marin
Fattoush
TASTE OF AFRICA
Haapasalon Hatsapuri
Black Grill & Cafe
COFAS AFRICAN DISHES
Phin Coffee
Awa Senegal
AfricanaSambusa
Ghana Union Finland ry
Mini Ethio Market
Golden Rooster
Ravintola Thai Thai
Just Shawarma
Persian Herkut
Tibet Hut
HEED Finland
Loving hut Helsinki
Ukrainalaisten Yhdistys Suomessa ry
African pots
Kambodzhalaista ruokaa
Atheena
Kreikkalainen Ravintola Rodes
VEGAN BEAT
More information about selling food outdoors: https://www.hel.fi/helsinki/en/housing/foodstuff/outdoor
More information about the festival: www.maailmakylassa.fi
Contact links:
Tommi Suoknuuti
Production Coordinator
tommi.suoknuuti@maailmakylassa.fi
+358 50 317 6709
exhibitors, food vendors